A Home Office That Works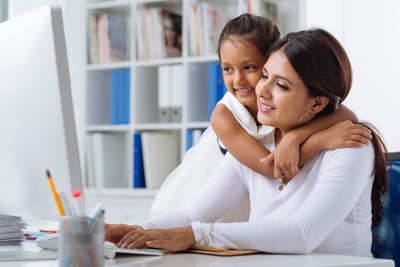 Working remotely is an effective and environmentally-friendly way to reduce overhead costs, adapt to irregular work hours, and maintain work/life balance. Here are some tips to make sure your home office works as hard as you do.

Location, location, location. If you'll be spending a substantial amount of time in your home office, choose your space wisely. In a house, consider the basement, attic, garage, or a spare bedroom. If you're an apartment or condo dweller, your options may be more limited, but you can use a little creativity and convert a walk-in closet, semi-private nook, or far corner of a room into a work space using free-standing screens and artful furniture arrangement. Your best option will depend on more than just a floor plan – also consider legroom, look, layout, and lighting.

Legroom: Your requirements will differ depending on the type of business you're doing, but at a minimum make sure you've got room for a desk, chair, storage, and peripherals. If you'll be hosting clients or coworkers, plan for more legroom. 

Look: Businesses that involve face-to-face client interaction must consider more than just square footage. Professional presentation is essential. Does a client have to walk through private areas like bedrooms to reach your office? Is your home or building presentable from entrance to exit? Do the furniture and décor reflect your business? Even if you intend to work solo, putting a business-like face on your space can increase productivity.
 
Layout: It's an often-overlooked aspect of home office design. Designers, architects and anyone else who uses large-format papers will need extra desk space; consider a secondary surface in reach of your main work station. Position your desk to avoid glare on your monitor. Frequently-used materials should be within easy reach of your primary workspace. 

Lighting: There's a reason why the phrase "the corner office" is shorthand for success: those who earn one of these preferred properties are rewarded with double the daylight. Consider this when weighing your home office options. A cramped but bright attic might be a better choice than a sizable but subterranean basement room.
Tools of the trade. Once you've selected a suitable space, you'll need to outfit your office with the right furniture and technologies to help you run your business.

Furniture: Computer-based work demands proper ergonomic design. Reduce your risk of repetitive strain injuries (RSIs) and fatigue with adjustable, proportioned furniture. If possible, enlist the help of an ergonomics consultant to set up a healthy workspace.

The most important piece of furniture will be your chair, so spend a little extra time and money to get the right one. If you have room, consider additional seating options. By periodically moving to a small couch or reading chair, you'll reduce strain and encourage time away from the screen.

Use appropriate storage options. With the decline of paper files, you might want to replace traditional cabinets with slender CD shelves, or opt for a paperless office.


Technology: Many routine work tasks can be accomplished and shared online, but for this to be practical you must have a reliable connection. Research your providers, check downtimes, and invest in a slightly more expensive package if it will add to your productivity. Seamless client contact and communications are an essential part of doing business, and the additional cost is likely a tax write-off.

If you run a paperless office, you'll save money and space on printing peripherals, but make sure you budget for occasional third-party print jobs. Also, be aware that you'll have to find bulletproof backup systems for your digital files.
Consider a dedicated line and number for your business, especially if you live with others who might answer your phone.